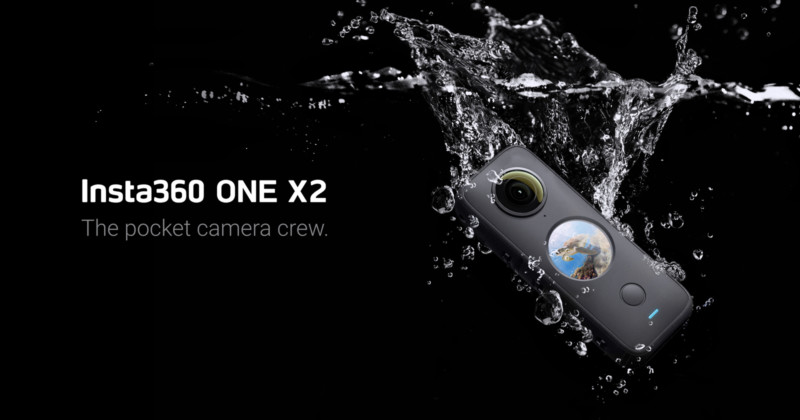 Insta360 has announced the ONE X2, a new camera that has a stacked spec list: it's a pocket-sized, stabilized, 5.7K 360-degree video camera with IPX8 waterproofing, touch display, and a range of AI-powered editing features.
The form factor of the Insta360 ONE X is retained with some notable upgrades under the hood. Firstly, a 1630mAh battery has increased shooting time to 80 minutes, and the company added a new ultra-bright touchscreen to preview images and videos. The camera is waterproof down to 10 meters (33 feet) without a case or can be expanded to 45 meters with the company's Dive Case.


Toted as a "pocket camera crew" by Insta360, the camera offers four different shooting functions in a form factor that fits easily in the palm of your hand: 360, Steady Cam, InstaPano and MultiView.
Four microphones promise to record clear, stereo audio with a "new smart wind-reduction algorithm." You can also record ambisonic audio for a more immersive experience.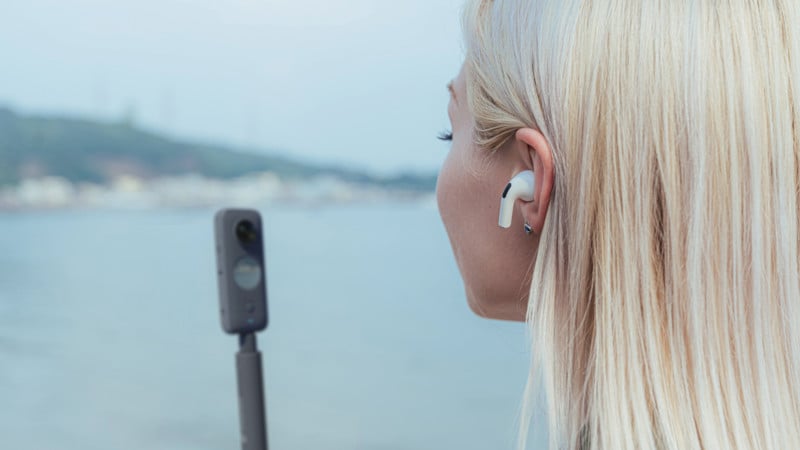 The camera also supports voice control and will work with Bluetooth earbuds like the Apple AirPods.
With 5.7K 360-degree capture, the camera can shoot in all directions at the same time, letting you just set and forget the camera, bypassing the need to aim directly at any subject or action. Insta360 says that you can choose what you want to focus on in the post, or let the X2's AI choose.


For standard video capture, the camera works in Steady Cam mode with the claim of "ultra-stable, ultra-wide footage."
InstaPano is a feature that takes advantage of the 360-degree camera and can build panoramic images from a single photo rather than needing to stitch multiple images together. Panoramic images are 4320 x 1440 pixels in resolution and can be exported in jpeg or RAW DNG.
With MultiView, Insta360 says that it can display two angles at once with different fields of view and can use the app's face tracking feature to assure the subject is always in frame. This function is aimed specifically at solo vloggors and creators.


Here are all the video resolutions and frame rates supported by the ONE X2:
360:
5.7K at 30fps, 25fps, 24fps
4K at 50fps, 30fps
3K at 100fps
Wide Angle (Steady Cam Mode):
2560×1440 at 50fps, 30fps
1920×1440 at 50fps, 30fps
1920×1080 at 50fps, 30fps
Insta360 claims that no matter what, the company's proprietary FlowState stabilization technology will use the camera's horizon leveling algorithm that results in stable shots without a gimbal.


Like with other Insta360 cameras, the "invisible selfie stick" is back, which allows for "aerial angles without a cameraman or drone." Any selfie stick in use will "disappear" in editing.
Insta360's Shot Lab is its in-app feature that allows for different editing effects, with a growing library of templates as the company describes: "Templates like Dolly Zoom and Stop Motion make cinematic effects as easy as a tap. Clone Trail and Shadow Clone templates clone your body in seconds. Ghost Town takes your 360 timelapse and removes people from it, outputting an unobstructed photo. "


The ONE X2 features subject tracking in post. Using the company's "Deep Track" algorithm, when looking at footage you can follow humans, animals, or moving objects through footage which keeps them in the center of the frame "no matter the obstacle." This works similarly to another ONE X2 feature: Auto Frame. This editing ability will automatically go through your footage and reframe shots with what the AI considers to be highlights. Insta360 says the algorithm is improved in its recommendations and can output more interesting shots more reliably.


Hyperlapse makes a return in the company's TimeShift feature, which is available in both 360 and Steady Cam camera modes. You can adjust playback speed, reframe shots, or let the Insta360 AI do it for you.
PureShot is the company's high dynamic range technology designed to boost shadows and highlights while preserving details. The camera also works underwater and has an AquaVision mode that will rebalance colors automatically.
Ted Forbes from The Art of Photography got some time with the Insta360 ONE X2 and published his thoughts:
Insta360 ONE X2 is available for $429.99. You can learn more on the company's website.
© 2022 PetaPixel